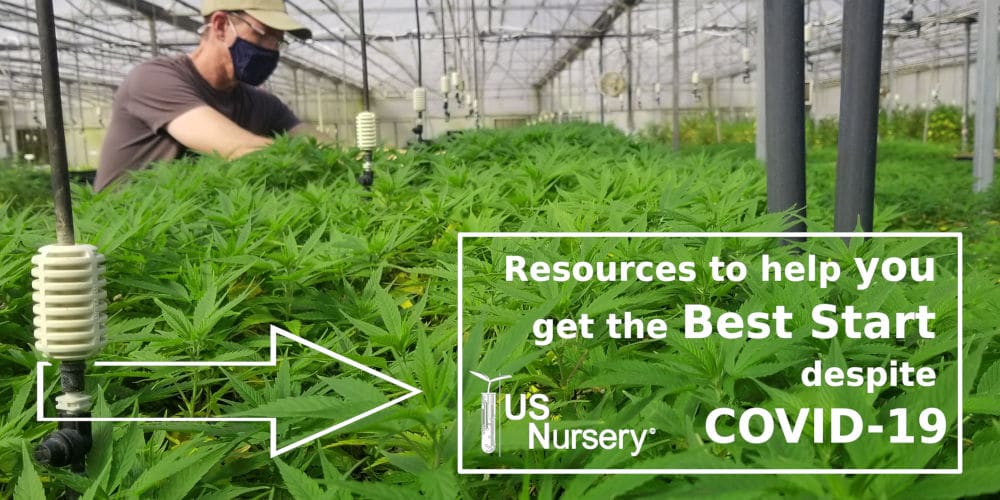 Support for Hemp Farmers: Overcoming COVID-19
Economic relief is being organized by several organizations across the nation to provide assistance for hemp farmers in the uncertainty created by the COVID-19 pandemic. Adjustments are being made through government agencies like the USDA's Farm Service Agency (FSA) to ensure agriculture remains stable during this time. A list of resources accessible to hemp farmers can be found at the bottom of this page. 
Farmer impact  of COVID-19: Stimulus access & Stabilization efforts
The Coronavirus Aid, Relief, and Economic Security (CARES) Act has implemented a Paycheck Protection Program (PPP)  to support job-retention and other standard small business costs. One goal of the CARES Act is to keep employees paid through mandated or sick leave, and with the new requirement that employers supply at least two-weeks of paid sick leave to all employees, the act supports eight weeks worth of a company's payroll costs. Forgiveness of these loans is conditional on funds being used for payroll and the maintenance or rehiring of employees. Supported standard small business costs apply to companies with fewer than 500 employees and include payments like rent and utilities. This program is available to hemp industry growers as well. However, you may be asked to explain business operations in great detail to ensure the legality of business related activities. For a more detailed run-down on features of the CARES Act, check here. For information on applications, check with the U.S. Department of Treasury. 
The USDA's Farm Service Agency (FSA) offers farmers assistance with flexible loan opportunities, while also offering  options, in collaboration with the Risk Management Association (RMA), for more flexible support through crop insurance. Approved Insurance providers are authorized to extend the timeline on policyholders' premium payments, and defer interest accrual.
Many state institutions have compiled lists of resources available to hemp farmers in their region and beyond. North Carolina State University produced a list of resources available nationwide, including The Golden LEAF Foundation's Rapid Recovery Loan Program, and mini-grants issued by the Rural Advancement Foundation International. For additional options provided by your state, check with your land grant university's extension and Agriculture departments, or visit Farm Aid's comprehensive list of farmer resources organized by state.
While we initially expected hemp material sales to decrease with a reduction in economic output, we are pleased to see sales remaining steady as farmers consider locking down their material for the coming season. Many large farms that rely on temporary labor to plant their crop are waiting to ensure they will have labor available for the planting season, and as a result, are hesitant to buy material too early.
According to 2018 surveys conducted by the National Center for Farmworkers Health (NCFH), the American agriculture industry relies on immigrants for approximately 73% of labor needs. We know farmers have been experiencing a labor shortage since before the pandemic, but struggle even more with travel restrictions and the slow down on visa processing at our borders. The USDA and the Department of Labor (DOL) are working on ways to make sure enough workers will be available for this season's planting and harvesting needs. Their first step is to allow eligible, returning H-2A workers to bypass the in-person interview process. Further adjustments are being considered to support H-2A worker transfers between domestic and foreign agricultural employers. Despite uncertainty facing the hemp community as COVID-19 peaks in the US, these AG industry members, private lenders, and government agencies are coming together to support affected businesses and consumers through difficult times. If you do decide to plant hemp this season, but are not sure of the direction to take at the moment, have further information or thoughts to share, please contact us. We are happy to discuss how we can help you get moving in the right direction.
Additional Resources:

Farmers.gov COVID-19 Resources
USDA's Risk Management Association
COVID-19 Rapid Recovery Loans
Rural Advancement Funds International
Ward & Smith Help for Hemp
The information and links provided in this article are for general information purposes only. This article is not intended to give, and should not be relied upon for, legal, financial, or professional advice in any particular circumstance or fact situation. No action should be taken in reliance upon the information contained in this article without obtaining the advice of a licensed professional.